The Catalan leader has issued a defiant response to Madrid's decision to take direct control of Catalonia, calling for "democratic opposition" to the takeover.
In a brief video message issued on Saturday afternoon, Carles Puigdemont vowed to continue working to build "a free country".
Madrid reacted to the Catalan parliament's unilateral declaration of independence on Friday by firing the regional government and dismissing the head of the local police force.
Puigdemont and his cabinet were formally removed from their posts, and their powers and responsibilities taken over by central government in notices posted to the official state bulletin on Saturday morning.
The orders provided an outline for a takeover approved by the Spanish senate on Friday, but Mariano Rajoy, Spain's prime minister, now faces the challenge of implementing them.
Puigdemont responded to Madrid's move with a choreographed show of normality, going out for drinks and lunch at a restaurant in his hometown of Girona, as the pre-recorded statement played out on national TV. He briefly stepped out to take a photo with supporters, to applause from other diners.
Activists had offered to form human chains around buildings to protect officials, and some of the region's 200,000 civil servants have already said they will not accept orders from Madrid.
One Catalan union has called a 10-day strike in support of the new republic starting on Monday, although larger trade bodies have not so far joined.
Josep Lluís Trapero, head of the regional Mossos d'Esquadra police, who was praised for his response to the August terrorist attacks, has been the only senior official to say he will comply with Madrid, accepting a demotion to commissar.
Beyond the sweeping assumption of powers, Madrid took wider aim at the project of Catalan statehood pursued by the regional government.
Among other orders, it dismantled informal embassies set up by Catalonia in countries from Denmark to Morocco, and dismissed a tribunal set up to investigate rights abuses during the 1 October referendum, when Spanish police were widely criticised for their use of force.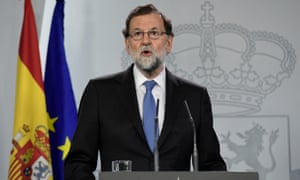 Rajoy has also dissolved the regional parliament and called elections for 21 December, with a 15-day campaign period laid out in the new orders.
Spain's deputy prime minister, whose official title is vice-president of the government, Soraya Sáenz de Santamaria – who has managed the government's response to the Catalan crisis – will run Catalonia on a day-to-day basis until then.
It is not clear whether legislators who supported the independence declaration will be able to run for office again, but polls suggest a new election would return a similar parliament to the one that proclaimed independence.
A slim majority of seats would be held by pro-independence parties, but they would still receive less than half of the popular vote, Associated Press reported.
The region has been officially self-governing since its statute of autonomy was signed in 1979, as Spain returned to democracy following the death of dictator Gen Francisco Franco.
However, as pro-independence Catalans celebrated, those who back staying inside Spain – often described as a "silent majority" – hoped the turmoil might also have spurred opposition to the independence project.
On Sunday they will hold a long-planned march in support of remaining part of Spain, and turnout is likely to be watched closely, as a barometer of anti-separatist sentiment. Government polls in the run-up to the October referendum suggest their ranks swelled slightly in recent months.
"We think there will be a lot of people who will want to show that they don't agree with that kind of unilateral, illegal declaration. It has only served to create division. People want to express themselves, and our slogan is 'We're all Catalonia'," said Alex Ramos, vice-president of pro-unity group Societat Civil Catalana.
He accused local police of underestimating turnout at their last pro-unity march, claiming that up to a million people may have taken to the streets rather than the official 350,000. Numbers were swelled by some people from other parts of Spain, but Ramos said nine out of 10 of them were from the region.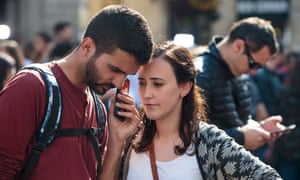 "A lot of the people who turned out were Catalans who'd never been on a demonstration before, people who'd been silent for a long time. But that day, they wanted to express themselves and say that they were both Catalan and Spanish."
Their concerns are political and economic, but also emotional. Catalonia has long been one of Spain's most prosperous regions, but the turmoil of the last months has taken a toll. Hundreds of companies have moved their headquarters out of Catalonia or are making plans to do so.
The fledgling Catalan republic has received little support from overseas so far. Governments from Berlin to Washington have rallied behind Madrid, while warning against escalation or violence, many driven in part by concerns about secessionist movements at home.
"I hope the Spanish government favours force of argument, not argument of force," said the European council president, Donald Tusk.
One of the few voices offering some backing to Puigdemont and the parliament came from Scotland, whose external affairs minister condemned Madrid.
"We understand and respect the position of the Catalan government. While Spain has the right to oppose independence, the people of Catalonia must have the ability to determine their own future," said Fiona Hyslop. "The imposition of direct rule cannot be the solution and should be of concern to democrats everywhere."
Since you're here …
… we have a small favour to ask. More people are reading the Guardian than ever but advertising revenues across the media are falling fast. And unlike many news organisations, we haven't put up a paywall – we want to keep our journalism as open as we can. So you can see why we need to ask for your help. The Guardian's independent, investigative journalism takes a lot of time, money and hard work to produce. But we do it because we believe our perspective matters – because it might well be your perspective, too.
I appreciate there not being a paywall: it is more democratic for the media to be available for all and not a commodity to be purchased by a few. I'm happy to make a contribution so others with less means still have access to information.Thomasine F-R.
If everyone who reads our reporting, who likes it, helps fund it, our future would be much more secure. For as little as $1, you can support the Guardian – and it only takes a minute. Thank you.